Guarantee...
If you're not satisfied with Adaptrade Builder for any reason, return it within 30 days for a full refund. See our Terms & Conditions for complete details.
Digital Download...
You can download Builder right now. After you purchase Builder online, you can automatically activate it, converting it to a licensed version. Click here for additional information on ordering.
Requirements...
Processor: 1.2 GHz or faster
RAM: 512 MB or more
Disk space: 1 GB or more
Operating system: Windows XP, Vista, Win 7 or Win 8
Trading platform: TradeStation 6 or higher, TS 2000i, MultiCharts, MetaTrader 4, or AmiBroker.
Monitor: 17inch or larger

Adaptrade Builder: Discover New Trading Strategies Without Coding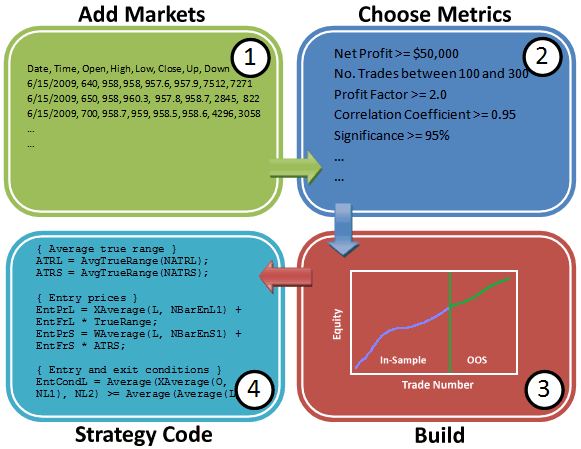 Adaptrade Builder is the next generation of systematic trading tools. Builder can discover, code, and test thousands of unique and complete trading strategies in minutes. Builder can discover and code trading systems for stocks, futures, forex, ETFs, and other markets on time intervals from tick data to monthly bars. Adaptrade Builder is the quick and easy way to develop custom trading strategies for TradeStation, MultiCharts, NinjaTrader 7, MetaTrader 4, and AmiBroker. Recently added features: optional neural network entry conditions, adaptive and zero-lag indicators, finding the optimal intraday bar size.

If you'd like to be informed of new developments, news, and special offers from Adaptrade Software, please join our email list. Thank you.


"First off I wanted to say how helpful Builder has been to me. I have been using it for a couple of years (with tradestation) and nearly all of the strategies have been profitable in real life."
J. W., Sevenoaks, UK

"Just purchased your software and ran the first build on
120 min gold futures 2001-2009. Out of sample had a higher PF than in sample. ...Very nice. Thanks."
R. D., Stephens City, VA
"I'm surprised how fast it is, I thought I have to run it overnight to get a strategy... I use an I7 2,8 GH and a run lasts only some minutes. ... Builder exceeds all my expectations."
W. S., Berg, Germany