Read how Builder was used to develop an intraday gold trading strategy in the July 2011 issue of TASC.
Read Italian? See the review of Builder
in the May issue of TRADERS' Mag Italia.
Adaptrade Builder: Discover New Trading Strategies Without Coding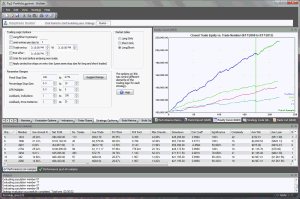 How does it work?
As an example, let's say you want a trading strategy for a small portfolio of stocks – it could just as well be futures, forex or other instruments – and that you want your strategy to have a profit factor greater than 2, no more than 20% drawdown, and a nice straight equity curve. You want winning trades to last, say, five days on average. To have Builder generate such a strategy, you would load the price data for the symbols of interest; enter your requirements for profit factor, drawdown, correlation coefficient, and average bars in wins (e.g., profit factor >= 2.0); then press the Build button. Builder will use an advanced genetic programming algorithm to evolve your strategy while you watch. When it's finished, you can review the performance results and strategy code and either accept it as is or modify one of the settings and build again.
Builder has a variety of settings that allow you to customize the results, such as specifying the types of trading orders used for entry and exit, the set of indicators that can be considered for use in the strategies, and whether the strategies are long-only, short-only, or include both long and short trades. You can also specify the range of available values used for indicator inputs and order price calculations. Other options let you limit the number of entries per day and specify the entry and exit times for intraday strategies. You can also add a neural network as an entry condition, control the strategy complexity to limit the risk of over-fitting, and specify how much data is set aside for out-of-sample testing.
Trader Profile: Tomas Nesnidal, co-owner of Financnik.cz: "... you can test literally millions of ideas in a few hours... You open AB, set up some parameters and let AB do the work. It will build strategies, test it OOS and produce final codes. Especially with latest 64-Bit AB 1.2 the progress is very efficient. On my computer (i7-980x, 12GB RAM, SSD Intel 320) I can use up to 65,000 population on daily data... in 15 minutes." Read the full profile of Tomas and how he uses Builder.

If you'd like to be informed of new developments, news, and special offers from Adaptrade Software, please join our email list. Thank you.



"…wanted to drop you a note and let you know that the AdaptiveIRSI has proven to be a great piece of code in trading the DAX. I trade in the shorter time frame (1-3 days), and have found this function to be an excellent confirming pattern when coupled with my strategies."
R. W., London, UK