Adaptrade Builder: Discover New Trading Strategies Without Coding
How Well Does it Work?
As an example, Builder was run on daily bars of a stock index futures market for a small population and a limited number of generations. The performance metrics chosen to guide the build process included the net profit, number of trades, correlation coefficient, statistical significance, and the return/drawdown ratio. Specific targets were set for the number of trades and the return/drawdown ratio. The other selected metrics were maximized.
The build options were set mostly to the defaults. The population size was set to 100 and the number of generations to five. The in-sample/out-of-sample division of data was set to 80% in-sample and 20% out-of-sample (OOS), with the OOS period following the in-sample period. The build process was run over a total of 10 generations. To illustrate how the results evolved during the build, the OOS net profit was recorded after the initial population was generated and after five and 10 generations. The figure below on the left demonstrates that the number of members of the population with OOS net profits of at least $1,000 increased steadily as the build progressed.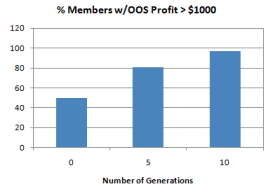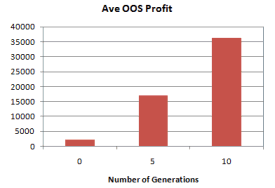 Similarly, the average OOS net profit of the population increased after five and 10 generations, as shown above on the right. Note that these results are for the OOS net profit. By definition, the out-of-sample data is not used in the build, so OOS results are unbiased; they don't benefit from hindsight. This implies that the GP process not only tends to improve the in-sample results over successive generations, which is a direct effect of the GP algorithm, but the OOS results also tend to improve as the strategies are evolved.
The equity curve for one of the top strategies after 10 generations is shown below. The EasyLanguage (TradeStation) strategy code for this strategy is included in the user's guide for Builder.
With Adaptrade Builder, you can...

| | |
| --- | --- |
| | Build an unlimited number of trading strategies/systems for TradeStation , MultiCharts, NinjaTrader, MetaTrader 4, and AmiBroker. |
| | Build strategies for almost any market or time frame. |
| | Build day trading or position trading strategies. |
| | Eliminate the most labor intensive and tedious elements of the traditional strategy development process; namely, coming up with a new trading idea, programming it, verifying the code, testing the strategy, modifying the code, and repeating. This is all done automatically in Builder. |
| | Find trading strategies that are not only unique but non-obvious. In many cases, these hidden gems would be nearly impossible to find any other way. |
| | Reduce the time required to develop a viable strategy from weeks or months to a matter of minutes in some cases, depending on the length of the input price data file and other build settings. |
** Builder also includes seven bonus strategies for trading stock index and commodity futures, ETF, forex, and stocks. Read more about these bonus strategies.
Your purchase of Builder includes:
| | |
| --- | --- |
| | Lifetime per-user license for the program. |
| | Free upgrades for one year from the date of purchase. |
| | Three example files to demonstrate different settings that might be used in Builder and the kind of strategy code that may result. |
| | Seven bonus strategies. These strategies, developed using Builder, were designed for stock index futures (two strategies), a commodity futures market, an ETF, forex, and two individual stocks. They include the Builder files with strategy code, a workspace file for TradeStation with a chart for each strategy, and an EasyLanguage code file (.eld) containing each strategy. These bonus strategies are only available to licensed users of the program. |
| | A 30 day money back guarantee. |
The software is designed for both individual and professional traders. The familiar Windows interface makes the program easy to use, and detailed help files are available if needed to explain how to use the program. To get started, all you need is TradeStation, MultiCharts, NinjaTrader, MetaTrader 4, or AmiBroker.
Still have questions? Read the online FAQ (Frequently Asked Questions).

Go to the online store to purchase Adaptrade Builder.

Adaptrade Builder

$1495

Lifetime License v2.0

Terms & Conditions Ordering Information

THE RISK OF LOSS IN TRADING COMMODITIES CAN BE SUBSTANTIAL. YOU SHOULD THEREFORE CAREFULLY CONSIDER WHETHER SUCH TRADING IS SUITABLE FOR YOU IN LIGHT OF YOUR FINANCIAL CONDITION.
HYPOTHETICAL OR SIMULATED PERFORMANCE RESULTS HAVE CERTAIN INHERENT LIMITATIONS. UNLIKE AN ACTUAL PERFORMANCE RECORD, SIMULATED RESULTS DO NOT REPRESENT ACTUAL TRADING. ALSO, SINCE THE TRADES HAVE NOT ACTUALLY BEEN EXECUTED, THE RESULTS MAY HAVE UNDER- OR OVER-COMPENSATED FOR THE IMPACT, IF ANY, OF CERTAIN MARKET FACTORS, SUCH AS LACK OF LIQUIDITY. SIMULATED TRADING PROGRAMS IN GENERAL ARE ALSO SUBJECT TO THE FACT THAT THEY ARE DESIGNED WITH THE BENEFIT OF HINDSIGHT. NO REPRESENTATION IS BEING MADE THAT ANY ACCOUNT WILL OR IS LIKELY TO ACHIEVE PROFITS OR LOSSES SIMILAR TO THOSE SHOWN.
If you'd like to be informed of new developments, news, and special offers from Adaptrade Software, please join our email list. Thank you.



"Just purchased your software and ran the first build on
120 min gold futures 2001-2009. Out of sample had a higher PF than in sample. ...Very nice. Thanks."
R. D., Stephens City, VA
"First off I wanted to say how helpful Builder has been to me. I have been using it for a couple of years (with tradestation) and nearly all of the strategies have been profitable in real life."
J. W., Sevenoaks, UK
"I'm surprised how fast it is, I thought I have to run it overnight to get a strategy... I use an I7 2,8 GH and a run lasts only some minutes. ... Builder exceeds all my expectations."
W. S., Berg, Germany
"Great last couple weeks trading Builder systems on gold futures by the way!"
C
. D., Palo Alto, CA